Yarrawonga Chronicle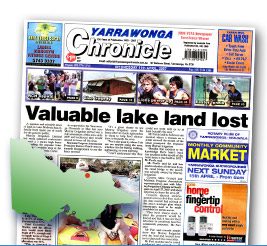 CIRCULATION
2,942 (ABC)
POPULATION IN PRIME CIRCULATION AREA
8,500
PUBLISHED
Wednesday (Paid)
Address
101 Belmore Street
Yarrawonga 3730
Ph: 03 5744 3731
Fax: 03 5744 2390
Email: This email address is being protected from spambots. You need JavaScript enabled to view it.
Web: www.yarrawongachronicle.com.au
Facebook: www.facebook.com/yarrawongachronicle
Profile
Yarrawonga is located on the Murray River in the Shire of Moira, 90 kms from Albury and 2 3/4 hours drive from Melbourne. After tourism, agriculture is Yarrawonga's main industry. The region produces high quality dairy products, wool, lamb, beef cattle, pork, wheat, barley, canola, oats, prime hay, soya beans, rice, oranges, peaches, pears and grapes. Other industries include, modern sheep sale yards, an abattoir, and the ADI Explosives manufacturing facility in Mulwala, which employs 250. The importance of Yarrawonga as a grains centre is reflected in the major storage terminal which services a wide surrounding area.
Industries
Manufacturing, explosives, agriculture, tourism, viticulture, wheat, barley, canola, oats, hay, soya beans, rice, oranges, peaches, pears, grapes, dairying, sheep, pork, cattle, feedlot.
Sections
Real Estate, Motoring, House, Education, Farming, Gardening
Prime circulation area
The Yarrawonga Chronicle is circulated throughout Yarrawonga, Mulwala and the neighbouring areas of Bundalong, Wilby, Telford, Peechelba, Lake Rowan, St James, Tungamah, Boosey and Buramine in Victoria and Rennie and Savernake in NSW.
Mechanical Details -
VCPA Modular Sizes

Page Size:

37.4

cm

Column Width

1

2

3

4

5

6

7

8

Modular EGN:

63

129

194

260

Classified 8 Col:

30

63

96

129

161

194

227

260

Minimum EGN Size
T11
Minimum Classified Size
4cm x 1col
Deadlines
Bookings
EGN: Noon Friday
Classified: 5pm Friday
Material
EGN: 10am Monday
Classified: 10am Monday
Delivery
Mail, courier or email as PDF to This email address is being protected from spambots. You need JavaScript enabled to view it. or via Quikcut, Yarrawonga
Inserts
Yarrawonga Chronicle
c/o - Shepparton News
Melbourne Rd
SHEPPARTON 3630

Deliver by Monday AM
Pallets must have shown the publication, the name and address of the client, Issue date of the paper, estimated weight of the pallet and the suppliers name. Delivery dockets to name the insert, the total number of copies on each pallet and the total number of pallets.
Insert Quantity
Wednesday: 3,500

Newspaper Advertising Rates
Rate

+GST

=GST Inclusive Rate

Casual EGN

$50.00

$5.00

$55.00

250cm

$49.32

$4.93

$54.25

500cm

$44.26

$4.43

$48.69

1000cm

$39.38

$3.94

$43.32

2500cm

$34.08

$3.41

$37.49

5000cm

$31.59

$3.16

$34.75

Classified

$7.11

$0.71

$7.82

Spot Colour

$100.00

$10.00

$110.00

Full Colour

$350.00

$35.00

$385.00

Inserts

$110.00

per 1000

$11.00

$121.00

Rates effective from July 1, 2015 – June 30, 2016